Saturday Night Live 40th Anniversary Special Recap
I love Saturday Night Live. I haven't been watching it my whole life but I have been watching it rather religiously for the past few years. If I don't watch it on Saturday, I'm always sure to catch up on Hulu during the next week. I even watched the first 3 seasons during my freshman year of college. I'm not an SNL expert but I suppose that I'm fairly well versed for someone who is only about half as old as the show itself.
I've been pumped about the 40th anniversary since the event was announced. For the past week, its pretty much all I've thought about.
My freaking out began with the "pre-show" on the red carpet. So many people! So many people I care about! 
I absolutely loved Justin Timberlake and Jimmy Fallon's opening. They were the perfect people for the job. I would definitely be willing to pay a lot to see the two of them together even more often than we already do. Debbie Downer's cameo had me literally screaming "OH MY GOD! Oh MY GOD!"
I also screamed "Oh my god!" when Steve Martin walked out to introduce the night (Spoiler: I'm fangirling throughout all of this). Steve Martin was a fantastic choice here – Steve Martin is an iconic comedian who has seen all of this from the beginning.
The night included a few throwbacks: The Super Bass-O-Matic 2150 (great place to start off the night), Colon Blow (flew up to the world's #1 trending topic after the skit!), and Mom Jeans (absolutely iconic).
Possibly my favorite skit the night was Celebrity Jeopardy with Sean Connery, Justin Bieber and Tony Bennett. I always love when Kate McKinnon plays Justin Bieber, she is too good in this role. Alec Baldwin was also hysterical as Tony Bennett. And, of course, it wouldn't be Celebrity Jeopardy without an appearance from Burt Reynolds aka Turd Ferguson.
I had another "OH MY GOD" moment when Christoph Waltz appeared. Taran Killam as Christoph is one of my absolute favorite of the last few years.
And after "Le Tits Now" it was all over. I could barely hear what was even going on because I was laughing so hard. I'll be sending a video of this to everyone I know.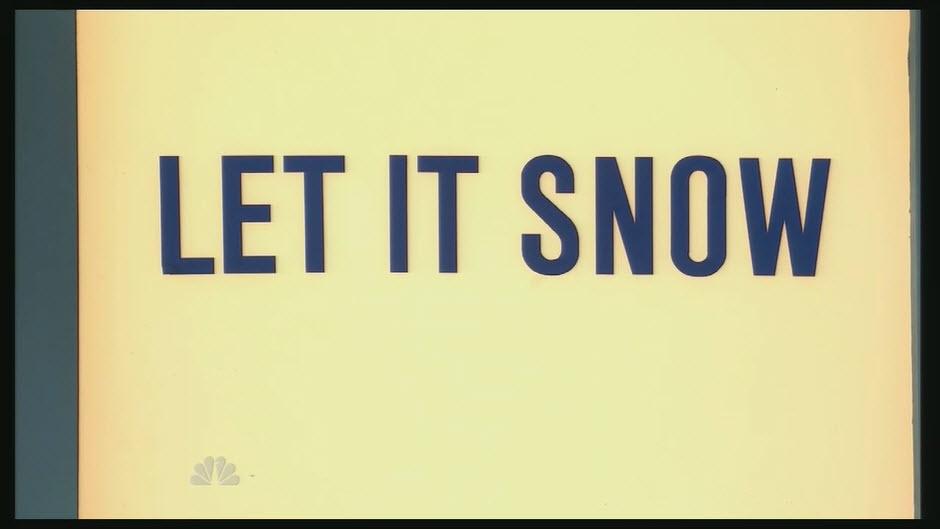 The Californians followed as the next live bit of the night. I screamed for this one, too. I absolutely love The Californians. "Ehhhhh whaaaaat're yew doin here?" While it was chock full of stars, Betty White was definitely my favorite. Betty White and Bradley Cooper making out will go down in history.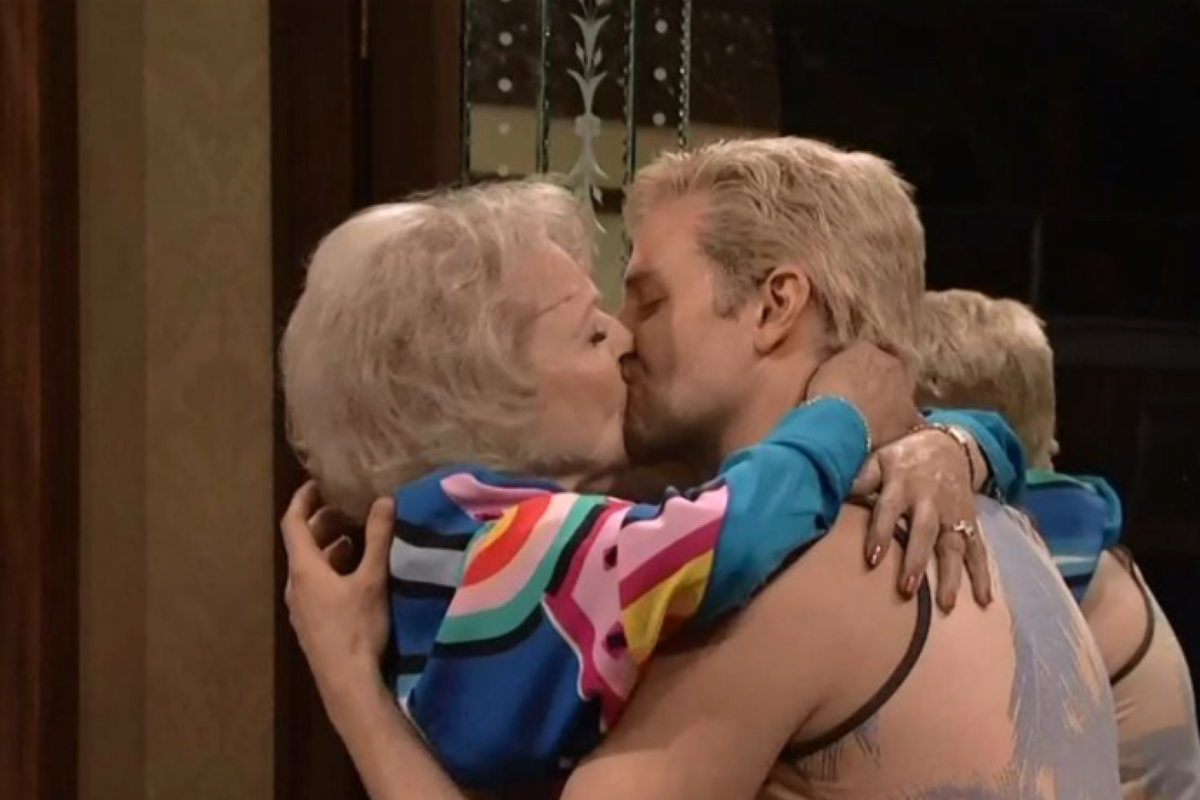 The night was also full of plenty of montages. The montage of auditions gave me goosebumps. The people we know and love before they were the people we know and love. I kind of wanted to cry just imagining how nervous they probably all were.
Robert De Niro (one of my favorite people) introduced the montage of NY centric skits. As someone who gets emotional just thinking about New York, I do constantly associate SNL with the city. They both remind me of potential. Everyone knows "if you can make it in New York, you can make it anywhere" and I think the same is true of Saturday Night Live. Just think of what SNL has done for so many people! Not only the cast members and writers but also the viewers. SNL has brought us comedic powerhouses as well as cultural impacts nobody could've seen coming. I loved that they included this montage because it definitely is something I think about each time I watch the show.
Jack Nicholson introduced the look back at 40 years of political humor brought to us by SNL. The political humor is definitely a huge thing I love about the show. Its amazing to see the public's perception of the harsh, occasionally bland, sometimes outlandish universe of real life politics reimagined through a satirical lens. Yeah, these are not at all reminiscent of our real politicians but these skits have brought so much to my imagination of who I wish they were. I especially love when these actual politicians have come to SNL, whether to interact with the caricatures of themselves or to get in on the joke.
The Weekend Update portion of the night was great as well. Definite highlight for me: Edward Norton as Stefan. Weekend Update has always been such an integral part of SNL so it was obvious they'd have a tribute to it (as well as a sweet tribute to the original, Chevy Chase). Weekend Update is always one of my favorite parts of every show. I recently listened to Seth Meyer's appearance on The Nerdist podcast from a few years ago and he said that Weekend Update is so great because its the closest the comedians can get to doing real stand up on SNL. I never thought of it like that but its absolutely true – its the only part of SNL where the cast members tend to be themselves rather than a character. Because of this, we always have a special connection with our Update anchors.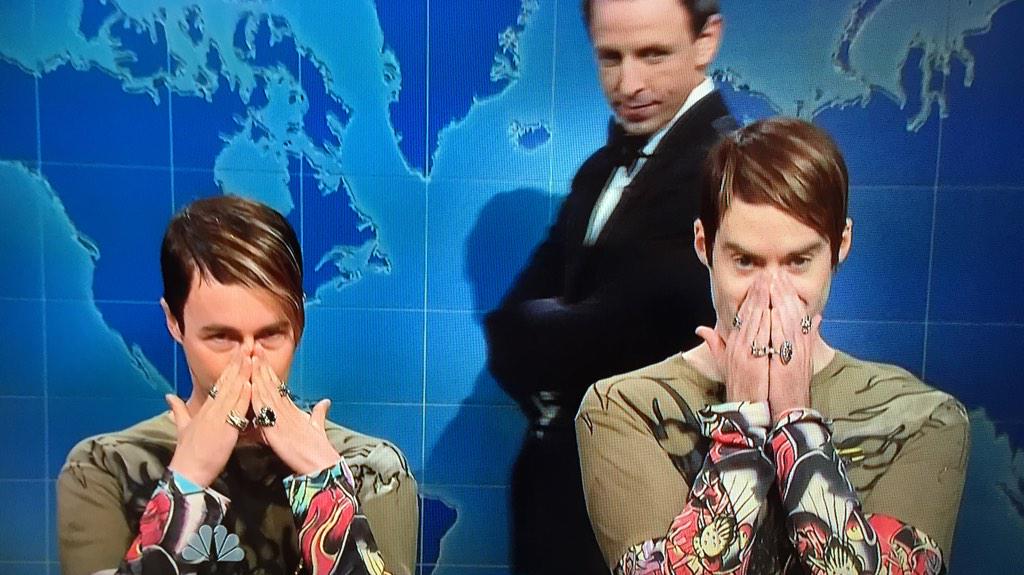 Next up we had the recognition of all of our favorite musical SNL characters. Martin Short and Maya Rudolph as Beyonce came together to host this part of the show. My favorite musical characters of all (and the first of the bunch) are Fred & Kristen's Garth and Kat. I'm not gonna lie – Fred Armisen is the one person ever on SNL who makes me laugh no matter what he does.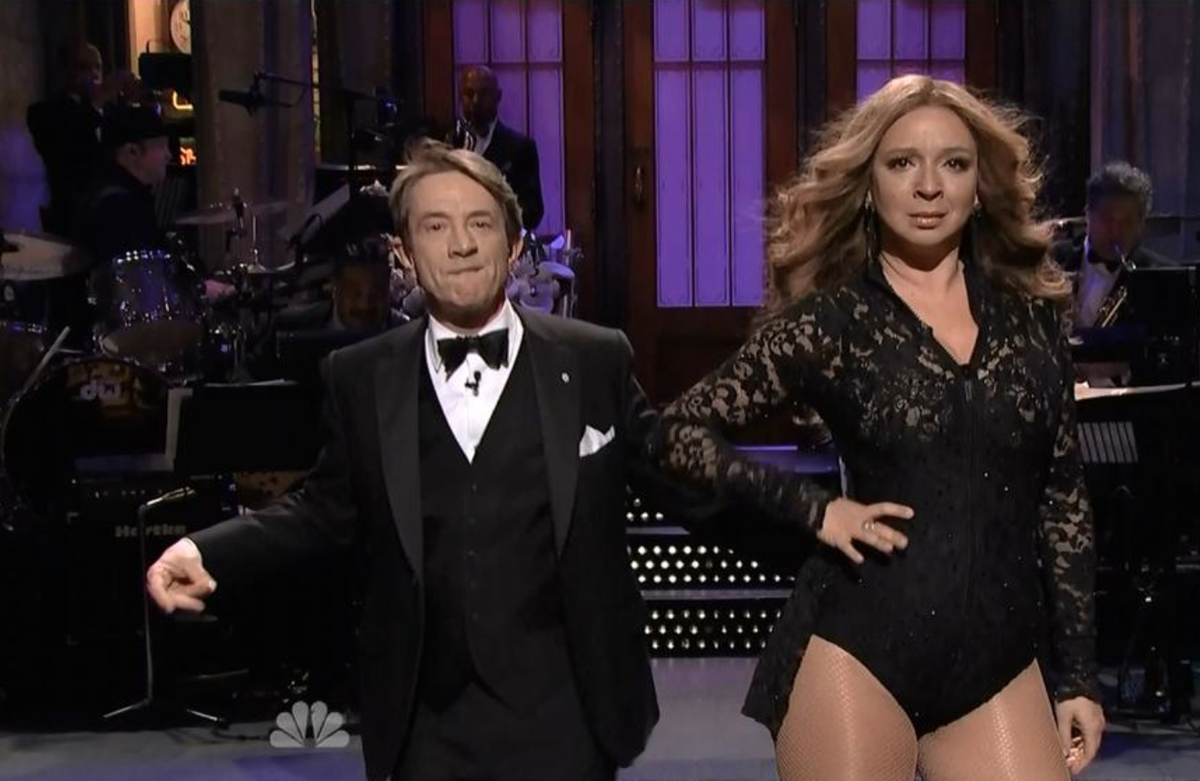 This whole bit went on far too long for me to go into in depth detail over all of it but highlights icluded: Marty and Bobbi Culp! Frank Sinatra! Choppin' Broccoli! Opera man! and ♫ KING TUT ♫  KING TUT ♫ . "Oooooh wee, what up wit that?" will surely be stuck in my head for the next month as it is every single time the skit appears on the show. Nick Winter's rendition of Jaws brought me to tears (because I laughed so hard). And, to wrap it all up, The Blues Brothers!
Derek Jeter and Peyton Manning came out to talk about sports on SNL. I know some people who don't enjoy athletes as hosts but I actually love it. There are so many celebrities we constantly see in the spotlight but we don't tend to get to know athletes in the same ways. We rarely get the opportunity to see just show funny they can be but SNL gives us that chance.
Immediately following the sports montage, we got a short but sweet ESPN Classic skit with our favorite commentators, Greg Stink and Pete Twinkle. Jason Sudeikis and Will Forte are forever great together.
The last montage was introduced by Louis C.K. He talked about the pre-filmed bits of the show. He joked that they're better than the skits because the skits are too long. Obviously SNL wouldn't be SNL without the live skits but the films are great. From The Ambiguously Gay Duo to Lonely Island, some of absolute my favorites ever have been these shorts.
The night also featured a few performances. Keith Richards introduced Paul McCartney. I've never really listened to The Beatles much nor any of their solo work, but I obviously recognize McCartney as an icon. Between his legacy combined and the hilarious SNL/Beatles backstory, I just thought it was fantastic that he performed tonight.
Next, we had Miley Cyrus's performance. The girl has an A+ voice but I was mostly there for Fred Armisen on the tambourine. I was a bit confused as to why she sang '50 Ways to Leave Your Lover' though…wasn't Paul Simon there? Or was that why she did it? Not the point I guess. Nonetheless, a totally solid performance.
Next up, Christopher Walken introduced Kanye West. I know this isn't the point but wouldn't you pay a lot to see the two of them star in something together? Also, this Kanye/Sia/Vic Mensa song is something I can't wait to see more of.
Paul Simon performed as well and killed it! And it was incredibly sweet of him to recognize the phenomenal in-house band before his performance.
Throughout the night, there were a couple specific tributes. The first of the tributes was when Chris Rock came out to talk about Eddie Murphy and his massive impact. Chris mentioned that "Eddie hosted the show while he was still a cast member." That kind of puts into focus just how big of a role he played here. And Chris Rock is right – Eddie Murphy inspired so many of our biggest stars today.
I thought it was great that Alec Baldwin and Tina Fey paid tribute to Tracy Morgan. Brian Fellow is one of my absolute favorites of all time so I know I was definitely hoping Tracy would be well enough to at least make an appearance in the audience. However, I'm so glad to hear he's recovering well and I, like Alec and Tina, hope to see him at the 41st.
Bill Murray introduced the "In Memoriam" of the night. Like any "In Memoriam," it was very sad, but the huge rounds of applause for each and every person just proved the legacy these people have left. They each played a role in the most iconic television program of all time. All the love was incredibly touching.
Possibly the most star-filled moment of the night was when Jerry Seinfeld came out for a "Q&A" with the audience. And Larry David was there! I think he is one of the funniest people of all time. Is there an official petition to bring back Curb Your Enthusiasm? Sign me up. Michael Douglas, James Franco (he's so cute…I'm such a sucker for some James Franco), John Goodman, Ellen Cleghorne, Dakota Johnson, Tim Meadows, Bob Odenkirk, and Sarah Palin were also there. What an audience! Just imagine being there! Sigh.
Another favorite moment of mine from the night was the new digital short from Andy Samberg and Adam Sandler about breaking. Breaking is every audience member's favorite! I'll be bumpin' "That's when you break!" for the next few days.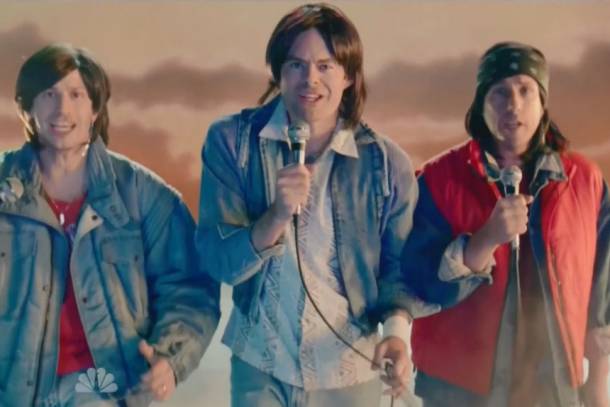 And, of course, the final bit of the night was Wayne's World! How could they not?! Wayne and Garth brought us the "Top 10 things about SNL" and poked a lot of fun at Kanye. Party on. Excellent, excellent.
Almost everyone mentioned that coming back to the show feels like a high school reunion. I can't imagine how amazing it much be to be part of such an incredibly legacy in our culture. More than anything else, I can't imagine how much love Lorne Michaels must be feeling tonight. The whole show was basically a massive tribute to how much everyone loves Lorne. What a guy. Thank you for all that you've brought us.
I'm already looking forward to the 41st anniversary special (or at least the 50th if we don't get another massive party next year). If you weren't able to see the special, definitely look out for it online – it is something you need to see!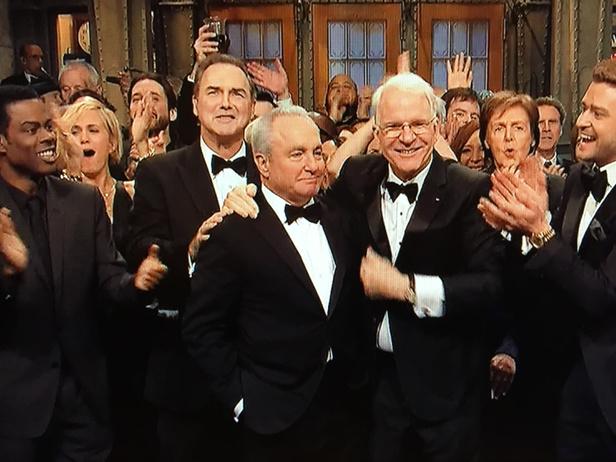 Goodnight and have a pleasant tomorrow! (I couldn't resist)